25 maart 2018 – Barry Steele – The Roy Orbison Story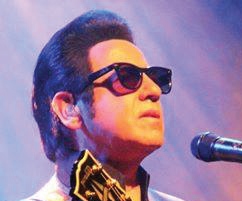 Barry Steele is wereldwijd gekend als zowat het allerbeste Roy Orbison-tribute. Hij ziet er helemaal zo uit maar nog belangrijker: hij klinkt ook helemaal als deze legende. Je gelooft je eigen oren niet bij het horen van deze reïncarnatie van The Big O.
In deze show brengen Barry Steele & Friends de muziek van The Caruso of Rock weer helemaal tot leven. Dit wordt een avond heerlijk genieten van wereldhits als "Only The Lonely", "Crying", "Pretty Woman", "You Got It" en zoveel meer. Meezingen mag en kan bijna niet anders op de tonen van al deze onvergetelijke pareltjes.